| | | |
| --- | --- | --- |
| The | | Band |
ANNOUNCEMENT

Sad news... As of September 17th, 2003... the Jefferson Bus Stop was taken off the bus route! Yes, it's true, our band had to end the rockin' oldies at this time.

Please be on the lookout for us individually or collectivly in the future!

THANK YOU, THANK YOU & THANK YOU to everyone who supported us and cheered us on. We love you guys!

We'll keep the site up for a bit longer.

... Connie, Cath, Jeremy & Adam
Your Oldies Variety and DANCE Band!!!
New Orleans, Metairie & Kenner, Louisiana
U.S.A.
Ask the "Count" - any question about music or TV from the 60's (we'll soon be adding a list of the questions and answers)
Oldies! Rock & Roll! Original Tunes!
Jefferson Bus Stop (or some of our players) have played...
Borders - Books, Music & Cafe
The Neutral Ground Coffee House
City Park's "Celebration In The Oaks "
The Greater Baton Rouge State Fair
The Star Theatre (Covington, La.)
Nouveau Marc Retirement Residence
Banks Elementary School Christmas Show (Baton Rouge, La.)
Silky O'Sullivans - WAAM Conference Showcase
House of Brews - Songwriter's Night
Phil Brady's Songwriter's Night (Baton Rouge, La.)
Martine's Songwriter's Night
The Coffee Bean Coffeehouse
Secretary of State Fox McKeithen's "Louisiana Music Cavalcade"
Photos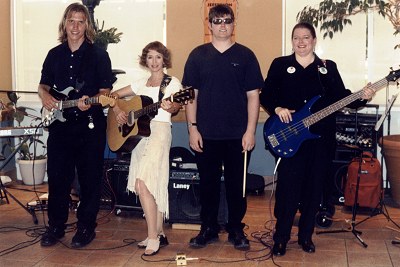 Border's Books, Music & Cafe'
July 2003
Adam Hayward, Cath Wilson, Jeremy Deubler, Connie Zimmermann
(photo courtesy Richard Wilson)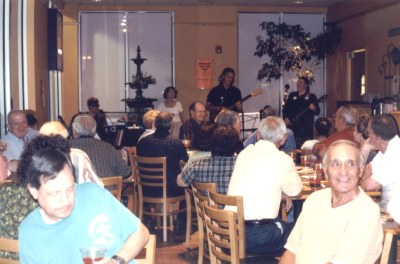 Some of our fantastic friends and family at Border's!
photos courtesy of Walter Cook & Richard Wilson