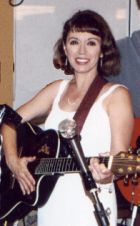 Cath "Little Wing" Wilson
~ Electric Acoustic Guitar & Vocals
Her name is Catherine Reidling Wilson. Her friends call her Cath. She was born and raised in the "Heart of New Orleans," (the title of one of her songs). She now lives in Metairie with her wonderfully supportive husband, Richard. (And she says, "Believe me, he puts up with a lot!") She and Richard have been blessed with three wonderful children, Wendy, Holly, and Rick, music lovers all!
Her Uncle Jake first introduced Cath to guitar when he let her occasionally borrow his vintage electric guitar. When she was 14 her big brother was given a shiny new electric guitar for Christmas. Little sister got a hold of it and hasn't stopped playing since! She would lock herself in her bedroom and study "teach yourself how to play" books. She knew she was making progress when her mother yelled through her closed door, "Catherine, turn your radio off!"
She considers herself a songwriter first, and a performer second. She's a member of the Louisiana Songwriters Association, and you can hear examples of her original music here: www.mp3.com/cath_wilson.
To say that she loves all types of music would be an understatement. She says, "Over the years I have been extremely fortunate to have found great musicians, singers, and friends to play music with." She collects 45 records, and old and current sheet music and has quite a collection of both.
E-mail: cathwilson@cox.net
Visit Cath Wilson's artist page on NewOrleansBands.com!
http://www.neworleansbands.com/artist/cath_wilson.php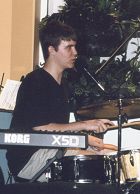 Jeremy "The Count" Deubler
~ Drums, Keyboard & Vocals
Our drummer, "The Count," was born and raised here in New Orleans and is currently a music business major at Loyola University. He is also a connoisseur of 1960s culture: movies, music, TV shows, cars... He doesn't know wines though....some connoisseur! Oh well, he does know his oldies however. Just ask him anything about a 60s track, and he'll likely know the answer!
In addition to playin' the skins, "The Count" also enjoys ticklin' the ivories, twangin' on the GIT-tar, pluckin' the boom-boom, and...er...singing. His favorite 60s artists include The Beatles, The Rolling Stones, The Hollies, The Beach Boys, The Searchers, Paul Revere and the Raiders, Tommy James and the Shondells, The Kinks, The Animals, and countless other "The" groups. For TV shows, "The Count" enjoys "Friends," "I Dream of Jeannie," "Dark Shadows," "Fawlty Towers," and "Cheaters." He also likes to kick back and watch some of his favorite flicks: James Bond, Alfred Hitchcock, and Vincent Price movies, "To Kill a Mockingbird," "To Sir With Love," "Cat Ballou," "Butch Cassidy and the Sundance Kid," and many more.
In his spare time "The Count" also likes to read, hang out, and enjoy the city life. Someday he would like to be a musical engineer or work in television.
---
If you would like to ASK THE COUNT something about a 1960s song, movie, or whatever, drop him a line by e-mail and "The Count" will turn mystery into ...um, an answer! E-mail: batarde@aol.com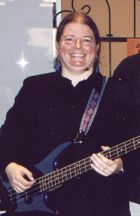 Connie "The Con" Zimmermann
~ Electric Bass & Vocals
Connie is the bass player for Jefferson Bus Stop. She started playing music at 8 years old when her parents bought her a small Magnus Chord Organ. Soon after, they refurbished an old Bradbury baby grand piano. During the years since then, she played clarinet and oboe in elementary, middle and high school, and then picked up acoustic guitar. Christmas of 1999 her wonderful sister gave her an Ibanez Bass Guitar and that started her new musical direction.
Connie is a member of the Louisiana Songwriters Association, which is where she met Cath and they started jamming together. Connie considers herself a writer of "novelty" songs. You can hear examples of her original music here: www.mp3.com/holiday.
She is married to Roger Shah, a super sweet guy and "ace" salesman at Don Bohn Autoplex on the westbank.
Connie is a web designer by day. She loves Oldies & Dance Music, and appreciates the efforts of her two guitar teachers over the years... Ron Hotstream (of the band "Hotstream") & Glenn Farley (of the band "No Idea").
E-mail: zimshah@aol.com