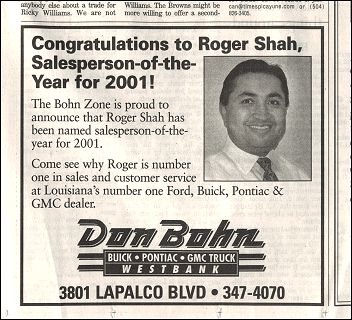 Congratulations to Roger Shah
Salesperson-of-the-Year for 2001!
Roger has been working for Don Bohn since November, 1996.
Roger was honored by
Don Bohn Autoplex
, in the Times Picayune newspaper, for his outstanding achievement as Salesperson-of-the-Year. Roger was the #1 salesperson for a phenomenal six total months out of the year.
and more...
An update (July 1, 2002) on Roger's career!
Roger has been promoted to Finance & Insurance Manager at Don Bohn Autoplex.

You can reach him at the following numbers:
Direct Office Line: (504) 349-9749
Pager: (504) 544-1127